//
The Twilight Saga hizo un ídolo adolescente de Robert Pattinson, quien se ha esforzado para demostrar su credibilidad indie desde entonces. Su última película LIFE - la historia de la amistad de un fotógrafo con James Dean - es su último intento de pasar de la franquicia de vampiros. Barry Nicolson conoce a un hombre quién finalmente encontró su voz.
//
En LIFE, Dean es interpretado por Dane DeHaan como un hombre con confianza imperturbable en sí mismo, su arte y su imagen. Si él se fuma un cigarrillo o cae borracho en una mesa, cada movimiento se hace con esfuerzo, y control despreocupada. Stock, por el contrario, "era una persona que no se sentía cómodo en todos los aspectos de su vida. Él siempre piensa que está supuesto a estar haciendo otra cosa, o está haciendo algo mal. Era un superfan James Dean, pero también quería tomar el poder de Dean y poseerlo de alguna manera, y eso no es cómo te sientes cuando estás a gusto contigo mismo y lo que haces. "
Nos reunimos en un hotel de cinco estrellas en las afueras de Belfast, donde actualmente está filmando
The Lost City Of Z
, una película de aventuras ambientada en 1920 sobre la búsqueda de una mítica ciudad amazónica. El ha crecido una barba de la era apropiada para el papel y usted puede imaginar el cambio dramático en la apariencia que viene muy bien para la vida civil, también.
Personalmente, Él es nervioso y autocrítico, siempre dispuesto a reírse de sí mismo, pero nunca completamente a gusto
, moviéndose inquieto en su silla y limpiándose la espuma de sus bigotes entre sorbos de café. Hablamos sobre el impacto que Dean tenía, no sólo en su arte, pero en la cultura juvenil de la década de 1950 y más allá, y me atrevería a decir que muchos jóvenes actores deben soñar en secreto lograr algo similar.
Pattinson parece horrorizado por la idea
.
"
Me ha costado un tiempo muy largo averiguar cual es mi voz
", admite, "o incluso si tuviera el derecho a decir nada en absoluto incluso en la escuela, cuando mi profesor de teatro me dijo: "Yo no creo que usted debe hacer las asignaturas creativas", que tuvo un enorme impacto en mí, y tuve que ir a un club de drama extraescolar porque me hizo sentir como si yo no era digno de la obra de la escuela. una gran cantidad de personas, cuando son muy jóvenes, tienden a ser como, 'tengo algo que decir y quiero que todos lo escuchen!' Pero yo nunca he querido que nadie escuche lo que estoy diciendo, porque es probablemente estúpido ".
LIFE es una película sobre cómo se hacen los iconos, y Pattinson tiene alguna experiencia en ese campo. A medida que la estrella de la franquicia de Twilight de 2 mil millones en taquilla, fue catapultado durante la noche en la estratosfera del estrellato adolescente. Enjambres de paparazzi, gritos omnipresentes de las adolescentes, un fandom extremo y posesivo, y un montón de apariciones con "resaca" en ceremonias de premios orientados a los adolescentes.
Pattinson no estaba cómodo en el papel
. Cuando, bromeó en una entrevista temprana que labró su pelo con la saliva de las vírgenes de 12 años de edad, los jefes de los estudios estaban horrorizados: "Pensé que podría ser divertido y contar chistes y ser tú mismo, pero estaban como, 'No, no puedes hacer entrevistas por el estilo. "
Luché muy duro para sostener mi identidad cuando todo esto comenzó a suceder
".
Luego estaba la intrusión de la prensa. Pattinson podría interpretar a un fotógrafo en LIFE, pero al ver su propio rostro pegado por todas partes le ha hecho cansado de ser fotografiado. "
Empiezas a sentir que tu cara es falsa, como si realmente no te representa más
".
Él trató de buscar asesoramiento de otros actores, pero la simpatía era escasa - para la mayoría de la gente, lo que Pattinson estaba atravesando parecía una especie de satisfacción cumplida. "Si usted se queja, ellos dirán, 'Él no merece trabajar!' Dirigirse a ciertos actores al respecto y te dirán, '¿Porqué no dejas de actuar si no te gusta tanto?'"
Cuando la franquicia terminó en 2012, él parecía aliviado, contento de terminar con ello. Ahora, sin embargo, él mira hacia atrás en toda la experiencia como "algo que terminó siendo muy útil. La mayoría de la gente, a través de sus 20 años, realmente luchan con saber lo que quieren hacer.
Yo estaba viviendo una vida acelerada masivamente, comprimiendo mil millones de experiencias diferentes, con la necesidad de comprender tantas cosas diferentes ... había definitivamente un lado malo, pero fue divertido. fue un subidón de adrenalina
".
Pattinson tenía 22 años cuando la primera película de Crepúsculo fue puesto en libertad; él tiene 29 ahora, sigue siendo "todavía joven" para los papeles de galán convencionales, pero "demasiado viejo" (y resueltamente hecho con) la escena adolescente.
En cambio, él silenciosamente ha empezado a construir un cuerpo interesante y diverso de trabajo
, por lo general actuando con violencia contra el tipo, como lo fue el año pasado con The Rover, donde el director David Michod lo eligió como el compañero sucio y torpe de un canoso Guy Pearce. "Me enteré de que una vez que haces una película, te mandan cosas similares después", dice riendo. "Hice The Rover, así que ahora tengo un montón de películas distópicas del desierto con dos personajes y un montón de disparos y es como, 'ya hice un poco ésto, chicos!". En realidad he estado pensando hacer una película corta sobre un narcoléptico solamente para ver qué tipo de cosas raras me ofrecerían."
Él está bromeando, pero el carácter aventurero de Pattinson en sus opciones post-crepúsculo significa que no lo descarta por completo. "
Lo que estoy buscando son elementos impredecibles
", dice; que era presumiblemente el atractivo de trabajar con auteur alocados como Werner Herzog en
Queen of the Desert
. Él realmente disfruta haciendo todo tipo de películas, y él es más relajado sobre todo el proceso que en los primeros días, "
Cuando peleé con todo el mundo, en casi todos los trabajos, porque yo quería tener más control
. Pero eso no es su papel como actor. En cuanto usted acepta que es un empleado que debe hacer al director feliz, esto se hace mucho más agradable."
Posiblemente el director que ha traído lo mejor de él es David Cronenberg, y las dos películas que han hechos juntos - 2012 Cosmopolis y el año pasado Maps to the Stars
- que han establecido un lugar a Pattinson después de Twilight. La primera, en la que interpretó a un joven de 28 años amo del universo, que se agrieta lentamente durante un paseo en limusina a través de Nueva York, fue una de las razones por la que el director Anton Corbijn lo contrató en LIFE,
pero Corbijn me dice que él también se ha quedado impresionado por "cómo inflexible Rob es a punto de elegir papeles que no son sobre el cheque de pago, sino de tomar riesgos
. Rob tiene una confusión interna que traduce muy bien lo que Dennis Stock tenía."
Ah sí, la agitación interna. Alguien tan ansioso como Robert Pattinson no puede haberse preocupado acerca de si estos chicos lo contrataron por razones comerciales y no artísticas, pero él no se colgó demasiado sobre ello, "
Con tipos como Cronenberg o Herzog, aunque me dijeran: "solo te contratamos por el dinero", es como, "Bueno, sólo estoy haciendo esto porque eres tú
", explica." E incluso si la película termina siendo basura, sabes que aprenderás algo de ellos. si usted trabaja con todos tus directores favoritos y destruyes tu carrera por completo en el proceso, eso no es una mala manera de hacerlo! "
Puede que incluso espera hacerlo. Ninguna de las películas que él ha hecho posteriores a Twilight han sido un éxito comercial,
pero cada una ha sido otro paso hacia el descubrimiento de su "voz" como actor
. Luego está el hecho de que
su vida desde los años de apogeo global de la "Robsession" se ha hecho mucho más manejable y mucho menos intensa, sobre todo desde que se mudó a Londres desde Los Ángeles
, donde "había gente sentada frente a mi casa todos los días, y me volvía loco. No entré en un supermercado durante unos seis años. Pero ahora puedo entrar y charlar con el chico que trabaja allí acerca de sus niños, o adónde va de vacaciones, y no estar pensando. "¿Él irá a venderme?"
Yo sólo no tengo que pensar en esas cosas nunca más
".
Él no dice mucho, pero también no podía culparlo por estar cansado de dar a la prensa sensacionalista un nuevo punto de vista sobre la relación con su novia, FKA twigs. Fue presentada a Pattinson el año pasado a través de un amigo mutuo
Florence Welch
, y él la describe, después de una pausa, como "
sólo una increíble, increíble artista.
" Su relación, como la que tuvo con su co-estrella de Crepúsculo, rara vez está fuera de las noticias, y en el día de nuestra entrevista, el Internet es un hervidero de rumores acerca de ellos: cuando se van a casar, cuando tendrán un bebé, o si están "sobre las rocas". Ninguno de ellos [
rumores
] es interesante, o incluso no es nuestro negocio para molestarse en preguntar sobre ello, pero el abuso racial que ella recibió el año pasado de los looniers de su fandom es una materia diferente. Twigs dijo que estaba "sorprendida y disgustada" por los mensajes que recibía,
y mientras Pattinson odia hablar de su vida personal, él no puede ocultar su enojo
.
"Yo estaba hablando con mi padre acerca de esto y le aposté a que si él busca el funeral de Nelson Mandela en Youtube, el primer comentario sería uno racista. Y lo fue, como con un millón de upvotes.
Lo que no entiendo es por qué
. Creo que es porque la mayoría de la gente normal no son comentaristas - Nunca he conocido a nadie que a dejado un comentario en cualquier cosa.
Son solo demonios que viven en sótanos
. Tienes esta cosa extraña en la que
terminas tratando de luchar contra esta burbuja sin rostro, en la que entre más lo odias, más grande se hace, porque está todo en tu cabeza
".
Aun así, él no puede resistir la alimentación de la burbuja buscándose en Google, dice; no por vanidad, sino por una "
compulsión extraña
" para "
reforzar mi opinión negativa de mí mismo. Me voy por períodos en los que no lo hago en absoluto y siento glorioso! Entonces voy a caer de nuevo en este pozo. Esto realmente te afecta, y todo esto viene de algún idiota sentado en una tabla de comentarios. Es siempre esa persona que está punzando lejos de tí, a quien quieres destruir o convencerlos de amarte
".
James Dean nunca tuvo que preocuparse por los trolls, murió tan joven que nunca había tenido que vivir con toda la magnitud de su propia fama.
Pattinson lo hizo, y no es para él
. El tipo de carrera que quiere tener, dice, "
es como Viggo Mortensen o Joaquin Phoenix - son actores que se acercan a las cosas de una manera muy honesta y pura
.
Interpretar al vampiro Edward Cullen durante cinco películas le dio un hambre de papeles. "
donde pueda mirarme totalmente diferente, poniéndome áspero
", tratando de escapar de esa ubicua "cara falsa". Hasta el momento, Está trabajando. Para Robert Pattinson, tal vez estar permanentemente incómodo es más una fuerza que una debilidad.
"
De alguna modo, parece que he tenido una carrera ralmente afortunada, a pesar de que en mi propia cabeza, todo lo que he ganado, ha sido de una manera muy sesgada
", dice. "Pero eso es sólo mi propia ridiculez.
Todavía ésto es sólo ganar
."
Transcripción y Traducción: DanielaMillán PattinsonFilms
Fuente Scans - después de corte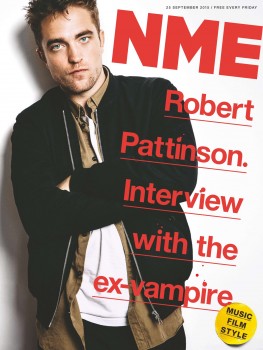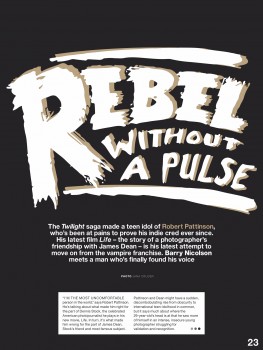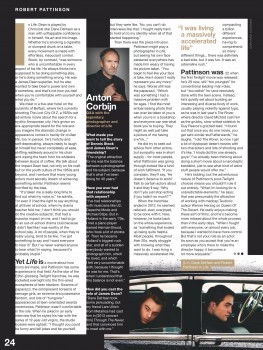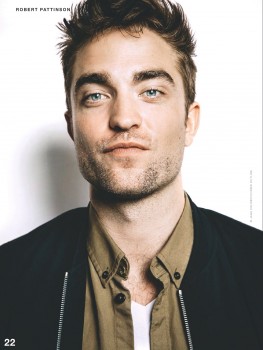 ENTREVISTA EN INGLES
// Robert Pattinson On Twilight, Trolls, James Dean And Moving On From Teen Stardom - NME Cover Feature Read more at //
The Twilight saga made a teen idol of Robert Pattinson, who's been at pains to prove his indie cred ever since. His latest film Life – the story of a photographer's friendship with James Dean – is his latest attempt to move on from the vampire franchise. Barry Nicolson meets a man who's finally found his voice.
"I'm the most uncomfortable person in the world," says Robert Pattinson. He's talking about what made him right for the part of Dennis Stock, the celebrated American photojournalist he plays in his new movie, Life. In turn, it's what made him wrong for the part of James Dean, Stock's friend and most famous subject. Pattinson and Dean might have a sudden, discombobulating rise from obscurity to international teen-idolhood in common, but it says much about where the 29-year-old's head is at that he saw more of himself in an intense, insecure young photographer struggling for validation and recognition.
In Life, Dean is played by Chronicle star Dane DeHaan as a man with unflappable confidence in himself, his art and his image. Whether he's smoking a cigarette or slumped drunk on a table, every movement is made with effortless, insouciant control. Stock, by contrast, "was someone who is uncomfortable in every aspect of his life. He always thinks he's supposed to be doing something else, or he's doing something wrong. He was a James Dean superfan, but he also wanted to take Dean's power and own it somehow, and that's not how you feel when you're comfortable with yourself and what you do."
We meet in a five-star hotel on the outskirts of Belfast, where he's currently shooting The Lost City Of Z, a 1920s-set adventure movie about the search for a mythic Amazonian city. He's grown an era-appropriate beard for the role and you imagine the dramatic change in appearance comes in handy for civilian life, too. In person, he's twitchy and self-deprecating, always ready to laugh at himself but never completely at ease, shifting restlessly around in his chair and wiping the foam from his whiskers between slurps of coffee. We talk about the impact Dean had, not only on his craft but on the youth culture of the 1950s and beyond, and I venture that many young actors must secretly dream of achieving something similar. Pattinson seems horrified by the idea.
"It's taken me a really long time to find out what my voice is," he admits, "or even if I had the right to say anything at all Even at school, when my drama teacher told me, 'I don't think you should do the creative subjects', that had a massive impact on me, and I had to go to an out-of-school drama club because I didn't feel like I was worthy of the school play. A lot of people, when they're really young, tend to be like, 'I've got something to say and I want everyone to hear it!' But I've never wanted anyone to hear what I'm saying, because it's probably stupid."
Yet Life is a movie about how icons are made, and Pattinson has some experience in that field. As the star of the £2bn-grossing Twilight franchise, he was rocketed overnight into the thin-aired exospheres of teen stardom. Swarms of paparazzi, the omnipresent screams of teenage girls, an extreme and possessive fandom, and lots of "hungover" appearances at teen-orientated awards ceremonies. Pattinson wasn't comfortable in the role. When he joked in an early interview that he styled his hair with the saliva of 12-year-old virgins, the studio bosses were aghast: "I thought you could be funny and tell jokes and be yourself, but they were like, 'No, you can't do interviews like that.' I fought really hard to hold on to my identity when all of that started happening."
Then there was the press intrusion. Pattinson might play a photographer in Life, but seeing his own face plastered everywhere has made him weary of having his picture taken. "You begin to feel like your face is fake, like it doesn't really represent you any more," he says. Worse still was the paparazzi, "Which was something I had a massive problem with for ages. I find the most embarrassing photo that can ever be taken of you is when you're in a bookshop and everyone can see what book you're buying. They might as well just take a picture of me having a wank..."
He did try to seek out advice from other actors, but sympathy was in short supply – for most people, what Pattinson was going through looked like a kind of wish fulfilment. "If you complain, they'll say, 'He doesn't deserve to work!' Talk to certain actors about it and they'll say, 'Why don't you just stop acting if you hate it so much?'"
When the franchise ended in 2012, he seemed relieved, even overjoyed, to be done with it. Now, however, he looks back on the whole experience as "something that ended up being quite helpful. Most people, throughout their 20s, really struggle with knowing what they want to do. I was living a massively accelerated life, compacting a billion different experiences, having to comprehend so many different things... there was definitely a bad side, but it was fun. It was an adrenaline rush."
Pattinson was 22 when the first Twilight movie was released; he's 29 now, still "too youngish" for conventional leading-man roles, but "too oldish" for (and resolutely done with) the teen scene. Instead, he's quietly set about building an interesting and diverse body of work, usually playing violently against type, as he was in last year's The Rover, where director David Michôd cast him as the grubby, slow-witted sidekick to Guy Pearce's grizzled lead. "I found out that once you do one movie, you get sent similar stuff afterwards," he laughs. "I did The Rover, so now I get a lot of dystopian desert movies with two characters and lots of shooting and it's like, 'I kinda did this one already, guys!' I've actually been thinking about doing a short movie about a narcoleptic bestialist, just to see what kind of weird stuff people would offer me."
He's kidding, but the adventurous nature of Pattinson's post-Twilight choices means you shouldn't rule it out entirely. "What I'm looking for is unpredictable elements," he says; that was presumably the attraction of working with madcap Teutonic auteur Werner Herzog on Queen Of The Desert. He really enjoys making these sort of films, and he's become more relaxed about the whole process than in the early days, "When I fought with everyone, on almost every job, because I wanted to have more control. But that's not your role as an actor. As soon as you accept that you're an employee who's there to make the director happy, it becomes a lot more enjoyable."
Arguably the director who's brought the best out of him is David Cronenberg, and the two films they've made together – 2012's Cosmopolis and last year's Maps To The Stars – have done much to establish Pattinson's post-Twilight place in the world. The former, in which he played a venal 28-year-old master of the universe slowly cracking up during a limousine ride across New York, was one of the reasons director Anton Corbijn cast him in Life, but Corbijn tells me he had also been impressed by "how adamant Rob was about choosing roles that are not about the pay-cheque, but about taking risks. Rob has an inner turmoil that translated very well to the one that Dennis Stock had."
Ah yes, the inner turmoil. Someone as anxious as Robert Pattinson can't not have worried about whether these guys hired him for commercial rather than artistic reasons, but he didn't get too hung up about it. "With guys like Cronenberg or Herzog, even if they told me, 'We only cast you for the money,' it's like, 'Well, I'm only doing this because you're you,'" he explains. "And even if the movie ends up being rubbish, you know you're going to learn something from them. If you work with all your favourite directors and completely destroy your career in the process, that's not a bad way to do it!"
He might even be glad to do it. None of the films he's made post-Twilight have been commercially successful, but each one has been another step towards discovering his 'voice' as an actor. Then there's the fact that his life since the peak years of global 'Robsession' has become far more manageable and much less intense, particularly since he moved back to London from LA, where "I had people sitting outside my house every single day, and it drove me crazy. I didn't go into a supermarket for about six years. But now I can go in and chat to the guy who's working there about his kids, or where he's going on holiday, and not be thinking, 'Is he gonna sell me out?' I just don't have to think about that stuff any more."
He doesn't say as much, but you also couldn't blame him for being weary of giving the tabloid press a fresh angle on his relationship with his fiancée, FKA Twigs. She was introduced to Pattinson last year through mutual friend Florence Welch, and he describes her, after a pause, as "just an amazing, amazing artist". Their relationship, like the one he had with Twilight co-star Kristen Stewart, is rarely out of the news, and on the day of our interview the internet is abuzz with rumours about them: when they're getting married, when they're having a baby, whether they're 'on the rocks'. None of them are interesting enough, or substantial enough, or even just anybody's-business enough to bother asking about, but the racial abuse she received last year from the loonier fringes of his fandom is a different matter. Twigs herself said she was "shocked and disgusted" by the messages she received, and while Pattinson hates discussing his personal life, he can't hide his anger.
"I was talking to my dad about this and I bet him that if he looked up Nelson Mandela's funeral on YouTube, the first comment would be a racist one. And it was, with like a million upvotes. What I don't get is why. I think it's because most normal people are not commenters – I've never met anyone who's left a comment on anything. It's just demons who live in basements. You have this weird thing where you end up trying to fight against this faceless blob, where the more you hate it, the bigger it gets, because it's all in your head."
Even so, he can't resist feeding the blob by Googling himself, not out of vanity, but out of a "weird compulsion" to "reinforce my negative opinion of myself. I go through periods where I don't do it at all and feel glorious! Then I'll fall back into this pit. It really does affect you, and it all comes from some moron sitting on a comment board. It's always that person who's needling away at you, who you either want to destroy, or convince them to love you."
James Dean never had to worry about trolls; he died so young that he never had to live with the full magnitude of his own fame. Pattinson did, and it's not for him. The sort of career he wants to have, he says, "Is like Viggo Mortensen's, or Joaquin Phoenix's – they're actors who approach things in a very honest and pure way. They're not just banging out movies." Playing the sparkle-skinned vampire Edward Cullen for five movies gave him a hunger for roles "where I can look totally different, roughening myself up", trying to escape from that ubiquitous "fake face" of his. So far, it's working. For Robert Pattinson, maybe being perpetually uncomfortable is more of a strength than a weakness.
"In some ways, it looks like I've had a really lucky career, even though in my own head, whatever I've won, I've won in a very skewed way," he says. "But that's just my own ridiculousness. It's still just winning."